There are plenty of barbells on the market and it can be confusing to pick the right one for you. The best barbell for home gym use will depend on your fitness level and goals. So the best barbell to buy for one person's needs may be different for the next person.
It's easy to fall into the trap of seeing a cheap barbell and snapping it up, only to find that you out grow it quickly or it falls short in helping you hit your goals. If we start off by looking for a quality barbell, we won't ever need to look again.
Best weight bar for home gym comparison chart (top 3 highest rated)
Here's a quick reference guide for our recommended home gym barbells:
Best Budget
Pros:
Different options available
Cons:
Chrome finishes tend to make scratches more obvious
Best overall
Pros:
Great bar for a multitude of training
Several versions available
Cons:
No center knurl (for those who preferer this feature)
Best curl bar
Pros:
Trainers with wrist rotation issues might find certain exercises more comfortable
Good build quality
Cons:
Not suitable for all barbell exercises
What are the best barbells to buy? Top 6 best barbell brands
The top barbell brands that we set our focus on are:
Synergee
Ritfit
Xmark
Rage fitness
Titan fitness
Capbarbell
A barbell should be a piece of gym equipment that is with you for years, so buying from one of the top barbell brands is a safe bet. Although these are normally more expensive, they are built for the most demanding training sessions and to stand the test of time, so we'd always recommend choosing one of these quality types of barbells.
In this post, we want to recommend bars from the top barbell manufacturers, but we also want to highlight some good barbell brands for those who are not in a position to invest in something too expensive. There is almost always an option for every type of trainer. It may be that you are looking for something that does not need to withstand a heavy load but want to train with exercises that require a similar feel to that of solid Olympic barbell brands.
What is the best barbell for home gym use? Here's our top 11 list: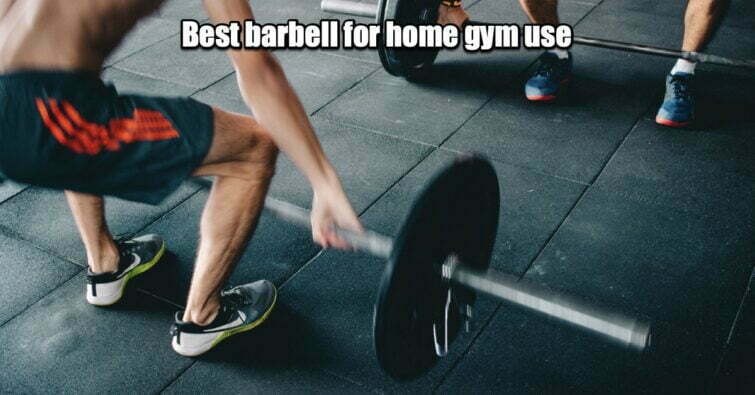 The best barbell for home gym use will depend on your training goals and what level you are aiming to train at. A top of the range Olympic bar might not be suited to your training methods, and the same goes for a budget bar. Let's look at the options!
1. Synergee Open 20kg Black Phosphate and Chrome Olympic Barbell (best barbell for home gym overall)
We consider the best barbells for home gym use to be those that can be utilized for every type of training that uses a bar. We would also expect it to be of high quality and be able to accommodate standard 2-inch Olympic plates. The previously featured Synergee open 20kg barbell ticks all the boxes, so as a home gym owner who's looking for versatility and intensity in workouts, this is the perfect centerpiece for your barbell weight set.
Pros:
Great bar for a multitude of training
Several versions available
Cons:
No center knurl (for those who preferer this feature)
2. Synergee EZ curl Olympic bar (Top curl bar for your home gym)
Our top choice of EZ curl bar for home gym use is this one. It has all the quality you would expect from this brand; it's durable, has a max load of 450lbs and has 2 inch sleeves to hold the same plates as an Olympic bar. This bar is a good fit for trainers who are uncomfortable holding a straight bar due to wrist flexibility issues. Curls are not the only exercise that can be performed on this bar, it's also a great training bar for rows and tricep extensions.
If you're looking for a bar for more comfort during these exercises, this bar will help. If you have the space and funds, an EZ bar is always nice to have in your gym too.
Pros:
Trainers with wrist rotation issues might find certain exercises more comfortable
Good build quality
Cons:
Not suitable for all barbell exercises
3. Synergee games 20kg barbell (good deadlifting bar)
If you are planning to specialize in deadlifting in your workouts, you should look at buying a bar that has good whip rather than a more rigid barbell. The Synergy games 20kg bar is this type of barbell, and as it still has a high tensile strength of 190k psi and a load capacity of 1500lbs, it can be loaded up well. Having a bar that is not as rigid as others also lends itself to potential with lifts such as the snatch and clean and jerk. Even though this is a great bar for deadlifts and performing Olympic lifts, it's still entirely plausible to use it for regular powerlifting movements and other workouts. The flexibility becomes more apparent with heavier loads, so don't be put off if you want this good looking bar for things like shoulder press or CrossFit.
This bar has no center knurling which is a sign of a deadlift bar and it comes in a striking red color, these barbells also have varying colour options available, but they are 15kg bars rather than 20kg.
Pros:
Cons:
Color choice may not be to everyone's taste
4. Synergee open 20kg bar (Great all-around barbell for home workouts)
This is a great all around barbell as it can handle all types of training, from CrossFit training, powerlifting movements and as there is a good amount of whip on the bar, it's plausible to use it for deadlifts and Olympic type lifting too. At the standard barbell weight of 20kg and 7 foot long, this bar is also built with a tensile strength of 150k psi and a weight capacity of 1000 lbs max load which is more than enough for most trainers working out from a home gym. The Synergee open has been described as a budget bar due to the price point, but this is still a high quality barbell that will last. There is also an option for a shorter 6 foot/ 15kg version of this bar for a more affordable option.
Pros:
Great bar for a multitude of training
Several versions available
Cons:
No center knurl (for those who preferer this feature)
5. RitFit barbell, 7-foot Olympic bar (best budget barbell)
There are cheaper bars on the market, but this is probably the best barbell for the money as the build is solid. Like other bars, this can be used for all types of exercise. If you're looking for a barbell for regular conventional training that wont exceed loads of above 500lbs, then this is a solid choice. RitFit also offer options of a 4, 5, 6 and three versions of the 7 foot barbell. The 7 foot options are designed for different max loads, there is a 500lbs, 700lbs and a 1000lbs to choose from, but the higher the max load, the higher the price. I'd recommend the 500lbs option as previously mentioned as it's less expensive and for the majority of trainers, this will be more than enough.
Pros:
Different options available
Cons:
Chrome finishes on bars tend to make scratches look more obvious
6. Synergee regional Olympic 20kg bar (Best Olympic barbell for home gym)
The best Olympic bar has to be one that can take a heavy load, but it also needs to be able to handle the landings that are associated with Olympic weightlifting movements like the clean and jerk. Synergee is not just an Olympic barbell brand as you may notice from the other Synergee barbell options in this post, but the Synergee open is an alloy steel bar with a tensile strength of 190k psi with a max load of 1500 lbs. As this is a 7-foot Olympic bar with a decent amount of room on the sleeves for plates, trainers at any level will find this ideal for Olympic weightlifting, and will find it hard to outgrow the capability of this oly bar. This is probably the best Olympic weight lifting barbell for the home gym trainer as the price is competitive and it is more than fit for purpose.
Pros:
Good build quality
Solid choice of Olympic weightlifting bar
Cons:
No center knurl (some trainers prefer this)
colour coated bars may fade in time
7. XMark Olympic CROWBAR & weight set (best garage gym barbell)
A great garage gym barbell has to be one that's not too expensive, but it has to be solid enough to stand up to the elements and be robust enough for intense workouts. This is a great bar that comes with a full set of rubber coated weights included.
The bar will work for all types of weightlifting and powerlifting training routines. As it has a manganese phosphate coating this feels like a bar with aggressive knurling. This coating will add an extra layer of protection to the bar as a bonus. Let's be clear though, all Olympic barbells are made of variants of steel or alloy and most have bearings in the sleeves, none of them like to live outside. If you are looking for the best barbell for a garage, this bar is an excellent choice along with the rubber coated plates.
As an aside, if you do have a garage gym or workout area that's open to the elements, regularly rubbing down your bar with a light oil will make the bar last a long time.
Pros:
Weights are included, so it's a weight set for your home gym right out of the box
Cons:
8. Rage Fitness Olympic training bar (best barbell for beginners)
Although we have mentioned this bar below as one recommended as the best barbell for multipurpose, it is also an excellent type of bar for the beginner. For the beginner, having access to a good multipurpose bar like this is a great start as most trainers don't necessarily have a straight path with their choice of workout style. For example, A new trainer might be enticed into lifting weights for the aesthetic payoff; they want to be a bodybuilder. After training for a while, they may then decide that powerlifting is more their thing, or maybe they get drawn into CrossFit.
So this is a great entry level option and our pick for the best beginners bar. Rather than looking for powerlifting specific bars or other specialized pieces of workout equipment, this can be used as all other types of bars are, like an Olympic weightlifting barbell, it has the capability to act as one of the specialized powerlifting bars out there and so on. This bar is a great option for the beginner also, due to the low price point.
Pros:
Highly rated bar by existing customers
Good price point
Cons:
Weighs less than a standard Olympic bar
9. RAGE fitness Olympic training barbell (Best multipurpose barbell)
This multipurpose bar is great for all types of resistance workouts that require moderate weight. Although this barbell is advertised as a training bar, it can still be used for powerlifting movements like squats, bench press and deadlift with a maximum load of around 135kg's. This is more than enough for the beginner or trainer that doesn't have a focus on big weight strength training, or those who don't have an interest in lifting a lot of weight. This is a great bar for those who want to learn lifting techniques with a lighter bar as it's lighter and shorter than other barbells (around 7 kg and 6 feet long), so it's a good option for trainers with limited space too.
Pros:
Good price point for an entry level bar
Cons:
Smaller and lighter than other bars
10. Titan fitness safety squat bar (Best specialty squat bar)
This bar is designed specifically for squats. The bar is built with a "U" shaped in the middle and has forward facing handles that make the bar easier to grip for trainers that struggle with flexibility through the shoulders. It also has a pads attached where the bar rests making it more comfortable. This is not ideal for most home gym users as its a big bit of kit with limited use, but for those with the space and funds, it may be the perfect addition to their barbell and weight set if squats are uncomfortable with a traditional straight barbell.
Pros:
Great for those who want to squat but have trouble with a straight bar
Cons:
Not very versatile
Can take up more space when compared to a straight bar
11. CAP barbell Olympic trap bar (Barbell alternative)
This is a bar that offers an alternative way of lifting to specialise in several movements. A trap bar, aka hex barbell is designed to be used for exercises like shrugs, deadlift and farmers walk so it does not have the versatility of a traditional straight bar. It is however an excellent choice of bar if you are looking to specialise in strongman training, you want an alternative way to deadlift or shrug, or you can use this bar to add different options to your workouts.
Although this particular trap bar is smaller than one that you would typically find in a commercial gym, it is a great additional piece of kit for a home gym. The only real drawback is the 500lb weight limit, but if you are working below this range and this type of lifting is for you, the price of these bars make for a good investment.
Pros:
Smaller than trap bars in commercial gyms, so good for working out at home
Cons:
What is the best home barbell for me? Our Final points
As you can see, there are many types of Olympic bars out there and these barbells can range in price fairly drastically. All of the barbells mentioned in this post have bushings and sleeves that can accommodate a weight plate with a 2 inch center hole as this is the most universal and versatile setup and most can be used in a variety of workout types. So when it comes to deciding on the best barbell for your home gym, you should first consider what type of training you are going to be doing and then consider your budget.
If you are dead set on training with a specific type of weightlifting methods like Olympic lifting and powerlifting, or even wish to focus solely on deadlifting or squats you should look at getting a specialty bar that's in line with your goals, an Olympic bar for Olympic weightlifters, a powerlifting barbell for powerlifters, etc.
The best home gym barbell for most trainers is a good quality multi-purpose bar like the Synergy open as this can be used for all types of training, will stand the test of time, you can stack a decent amount of weight on the bar, and in general, it has all you could hope to look for in a barbell. Of course, this is not the only multi-purpose bar out there, but it's a solid choice.
If this is out of your price range, the Rage fitness Olympic training bar will also serve you well, even though it is seen as a more basic barbell, it can still hold a heavy weight, so is a good option for most trainers, especially beginners. A multi-purpose bar gives you scope to try different training options so you get the best of both worlds.
To wrap this up I think it's worth mentioning that in general, the higher the price point for a barbell, the better the build quality, but if you take care of your bar it will last you a long time, whatever your choice. So lightly oil your bar from time to time, this is easily done with oil like WD40 that you may already have at home, and don't leave it out in the rain, or leave it on the squat rack loaded with weight for weeks on end.
Remember also, not to get too wrapped up in your quest to find the best barbell, it's a big metal bar that holds weight at the end of the day, and with the proper knowledge of exercise, you can achieve a lot by training at home with the most basic equipment. Having a barbell workout plan that aligns with your goals is as important as the equipment you use if you really want results.