As Amazon Associates we earn from qualifying purchases.
Sick of hunting for the best powerlifting clothing brands? Lifting brands that actually have clothes to fit your hulk build?
We've got you covered!
Bodybuilder fashion is becoming a thing, and the diverse range of lifting clothes brands out there proves this—both in a functional and a casual sense.
Before jumping straight down to the best bodybuilding clothing brands we've reviewed, be aware of a few things when picking out your next tank top, leggings or casual shirt:
What to look for in bodybuilding apparel
No matter which of the below best bodybuilding clothes brands you use, these are the main factors when buying your workout clothes:
Comfort
Versatility
Affordability
Style
Fit
What you should demand from powerlifting apparel brands
While the specific apparel quality is important, these are some other factors to expect from bodybuilder clothing brands:
A focus on the customer's needs
Wide range of apparel
Environmental awareness
International shipping (incl. free shipping!)
Simple shopping experience
Easy returns policy (and, hopefully, free!)
Competitive pricing
What are the best bodybuilding clothing brands?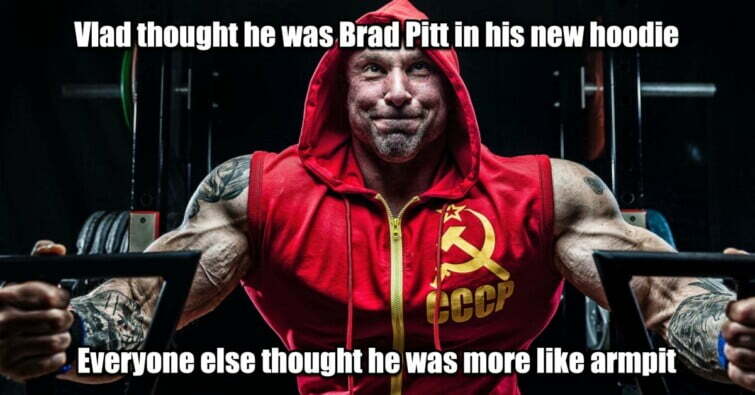 The below best bodybuilding clothing brands contain a wide range of high-quality apparel wear for you bodybuilders out there, no matter your size, shape, gender and experience. We feature both the most popular brands and also some unheard-of heroes that you should try out.
---
Barbell Apparel (best bodybuilding clothing brand overall)
There's no doubt that Barbell Apparel is the absolute bomb kettlebell of kettlebells when it comes to bodybuilding gym clothes.
Although the brand covers both men and women's complete workout gear needs, it started off with a focus on jeans for bodybuilders. As a result of its initial success, Barbell Apparel now offers world-class clothing, no matter if you're in the gym or need casual clothing to fit your contours.
The entire user journey on their site is exemplary, with clear navigation and a simple checkout process
It most definitely met its initial mantra of, "Clothing should be better", with a new shift toward "…to inspire you to reach your full potential".
Bravo, Barbell Apparel… bravo!
Pros
Excellent fit
High-quality fabric
Wide range of apparel
All sizing options: XS to XXXL
Military discount
30-day money back return policy
Cons
International shipping cost returns not free
Some users report sizing issues, but these are minimal and expected
---
Lifting Large (one of the best powerlifting clothing brands around)
On the hunt for some bench press shirts, squat suits or deadlift suits? Lifting Large has you covered, especially if you need IPF, IPL, USAPA & USAPL-approved gear.
In addition, it has a comparison chart for the Titan range to ensure you pick the right squat suit. Gotta avoid that chafing! And don't forget to check out the deadlift socks!! They're shockingly brilliant!
Not only does Lifting Large have some decent powerlifting clothing, but it has a heavy focus on powerlifting equipment & accessories, such as wraps, sleeves & belts.
Quite simply, Lifting Large is a go-to for all-things powerlifting.
Pros
Excellent powerlifting range of equipment and apparel
Wide range of sizing
High-quality gear
Gear approved by official powerlifting bodies
Cons
No dress clothing for bodybuilders
---
Under Armour (great muscle building clothing)
Most of you would automatically associate this front-running fitness brand with generic workout gear.
But, it's also a consideration as one of the top lifting apparel brands. While the sizing doesn't necessarily rise up to the XXXLs that Barbell Apparel provides, some bodybuilders among you will find something to fit your size.
Even so, rest assured that Under Armour's product quality is exceptional, providing comfort for both in and out of the gym.
Pros
World-class brand
Exceptional quality
Excellent customer service
Wide range of clothing for different sports
Cons
Limited sizing for the Hulks of you out there
Not a complete focus on lifters
---
Reebok (a surprisingly good bodybuilding clothing brand)
We're sticking with the fitness brands for a minute, but Reebok is worth a mention here.
Try and push aside an association with generic fitness apparel, but consider indulging yourself in the bodybuilding range of clothing, especially the tank tops.
Known for its high-quality but classic style, Reebok has a range of comfortable clothes for bodybuilders, no matter if you're a woman, man or a llama. (Ok, maybe not the last one).
Pros
A leader in fitness apparel
Wide range of clothing for men and women
Exceptional quality
World-renowned brand
Cons
Sizing might not compare to Barbell Apparel's above
---
Grrrl (women's bodybuilding apparel to die for)
"It's time to change the game"—we absolutely love that strapline from the team at Grrrl.
There aren't enough women's bodybuilding clothing brands but Grrrl is paving the way through squat-proof leggings, comfortable workout shorts, and a massive range of high-quality workout & bodybuilding apparel.
In addition, there's a range of yummy supplements, including pre-workout, protein, vitamin K & more.
No matter what they do, the team behind Grrrl strives for women's equality and beyond… and rightly so.
Go Grrrl!
Pros
Female-focused bodybuilding brand
Wide range of products
Sizing for all body sizes and shapes
Comfortable fit and high quality
Cons
Color designs not for everyone
---
Lululemon (street clothes for bodybuilders on offer here!)
Don't be a lemon, shop with Lululemon!
Ok, that isn't their motto but not only is the clothing range wide, but we also love their focus on helping their "collective" physically, mentally, and socially through its range.
While it sells apparel (and shoes!) for both men and women, there's a heavy focus on women. So, if you didn't like the Grrrl range above, you might find something over at Lululemon.
Lululemon is also one of the most innovative bodybuilding apparel brands. Its unique Mirror product allows you to work out via thousands of classes in front of a mirror with built-in software to deliver the class or workout. Pretty nifty!
We wouldn't say that Lululemon is a bodybuilding-centric apparel brand, though, since the range ventures heavily into every-day clothes and the sizing likely won't cater to the bigger bodybuilders out there.
Even so, there are plenty of happy customers out there working out in the moisture-wicking gear.
Pros
High-quality bodybuilder clothing for both men and women
Highly innovative brand
Comfortable fit across the range
Casual and workout gear available
Cons
Not as focused on bodybuilders as others
Some users report issues with returns and customer service
---
Size Up Apparel (top clothing for bodybuilders)
We love Size Up Apparel's brand creation story of finding a problem and creating a solution to that problem.
This drive and ambition has clearly transferred into the popular and fashionable range of bodybuilder gym clothes that Size Up Apparel now offers, with a ta
---
Born Tough (high-quality bodybuilding clothing line)
Self-labeled as the "rising star in men's and women's fitness apparel", Born Tough's bodybuilding clothing line caters for powerlifters, bodybuilders, runners, and all of you in-between.
Born Tough reviews are highly positive, with happy lifters praising the fit, quality and wide range of clothing.
In addition, we like the casual look that Born Tough offers while doubling-up for when the sweat starts flowing in the gym.
To give you a helping hand, you should definitely check out the best-selling Momentum Jogger Pants.
Pros
High-quality material
Wide range of apparel
Affordable
Cons
Leggings not ideal for yoga
---
Ritual Apparel (top bodybuilding workout clothes)
Ritual's ethos is based on that the hard, grindy, recurring habits are the actions you need to take to become successful at powerlifting and bodybuilding.
And we agree.
This transforms into its range of bodybuilding workout clothing, which includes T-shirts, sweats, sports bras, singlets and their signature "Identity" range". We especially like the 4XL sizing on offer, making it perfect for powerlifters.
Be sure to also check out the Ritual podcast for even more value and knowledge gains!
Pros
4XL sizing for powerlifters
Wide range of T-shirts
Strong brand ethos
Cons
Limited range
Only one women's product
---
Fran Denim
Fran Denim's entire focus is on jeans for lifters, using an inspirational "made for the dedicated" headline.
What we love is how there's a focus on both men and women, which is just how it should be.
The brand guarantees high-quality jeans that will contour to your legs and rear, growing with you without ripping and wearing as regular jeans do.
Customers rave about the fit and quality, and we're pretty sure you will too! Just be aware that Fran Denim only sells jeans, so check out a brand like Barbell Apparel for other bodybuilding gym clothing.
Pros
Excellent it
High-quality material
Comfortable fit
Suitable for both men and women
Cons
Solely sells jeans (aside from a few snap-back caps)
---
Which of these weightlifting clothing brands is right for me? Key takeaways
Man… it can be really tough to find clothes for bodybuilders sometimes, but you should find something in this list that works for you.
We're big fans of Barbell Apparel's range, especially the fitted shirts for the guys, and Lifting Large is perfect for powerlifting clothing & gear. And we're sure that the women out there looking to back a forward-thinking brand will love Grrrl's range.
Just be sure to check the sizing guides for each brand since one brand's clothing will likely fit completely differently from the next.
Happy shopping!
Amazon and the Amazon logo are trademarks of Amazon.com, Inc, or its affiliates.