I figure if you are going to buy a compression shirt, you might as well go with superhero compression shirts over the boring run of the mill gear.
They are especially great if you have a beer gut or are slightly lacking in the muscle department because you have just started training…
The cleverly designed superhero musculature will help to cover up those horrible unsightly curves. 😉
They will also probably look quite good on you if you already have the body of a superhero I guess, but I am speaking from a personal point of view… I'll stick to what I know, and what I know is that a design with superhero muscles all over it is going to be the best compression shirt to hide fat.
Hmm…
Perhaps I should ask somebody to create a professor X compression shirt just for me instead so I can confidently wheel myself around the gym looking like Charles Xavier and not have to worry about it at all.
Anyway, enough about me. Let's take a look at the 13 most popular men's superhero compression shirts list.
Any guesses which DC or Marvel compression shirt is the most popular?
Oh, and by the way, yes… Some of these characters are DC and not Marvel. It's a mistake I am ashamed of, but I have learned to forgive myself.
The latest in by the way…
If you are looking for an Avengers Endgame compression shirt GO HERE.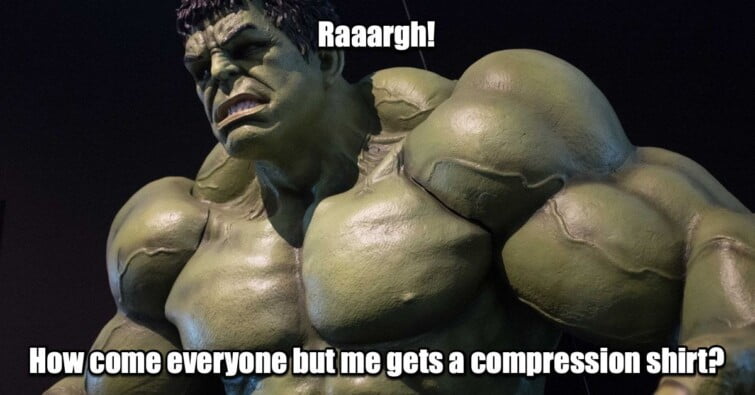 Here are the 13 best superhero compression shirts
13. Incredible Hulk compression shirt
At #13 we have the beast that all lifting brands want to use as their mascot!
Yes, you too can look like a behemoth around normal puny humans with the Incredible Hulk Compression shirt on your mahoosive torso.
This one is perfect for the hulking great bodybuilders out there. Your gym rat buddies will be green with envy when they see it. Probably.
Maybe not right for you if you are the marathon type though huh? (Check out the Flash compression shirt if that's your bag.)
Hulk quotes to yell while training
And let's not forget the classic…
---
12. Wolverine compression shirt
In 12th place, we have a complete copout… kinda.
And it's probably worth thinking about taping some scissors to the back of your fists so there is no mistaking who you're meant to be.
Sorry about that, I'll try harder on the next in our lineup of superhero compression tees.
UPDATE: I take it all back, I managed to find this a second Wolverine superhero workout shirt.
Alright, I found one shirt and the pathetic replica vest tops!
Wolverine Quotes To Yell While training
---
11. Deadpool compression shirt
Deadpool quotes to yell while training
---
10. Iron Man compression shirt
Yes, you too can look like an arms dealing oversized can of tomato soup with this frighteningly realistic-looking Iron Man compression shirt.
Iron man quotes to yell while training
---
9. Thor compression shirt
In (what I think were) the words of Odin…
Thor quotes to yell While training
---
8. Green Lantern compression shirt
Who needs a lousy power ring?
Green Lantern quotes to yell while training
---
7. The Flash compression shirt
Flash quotes to yell while training
---
6. The Punisher compression shirt
Punisher quotes to yell while training
---
5. Captain America compression shirt
For those who prefer Bucky (or just fancy themselves as a semi-immortal Soviet assassin) over old cap', there is also a Captain America Winter Soldier compression shirt also available.
Captain quotes to yell while training
---
4. Batman compression shirt
Batman quotes to yell while training
---
3. Black Panther compression shirt
Black Panther quotes to yell while training
---
2. Spiderman compression shirt
Spiderman quotes to yell while training
---
And the Marvel & DC superhero compression shirts award goes to…
(Drumroll please)
1. Superman compression shirt
Up! Up! and away!
Superman quotes to yell while training
Did we miss your favorite DC or Marvel compression shirt?
Yep, it wouldn't surprise us at all. We miss quite a lot.
Let us know in the comments which superhero compression tops you would like to see included.